The "caga tió"
p>Last December 24th , at about 8 PM, un most of the houses of Catalonia took place an ancient tradition. It is called the "caga tió".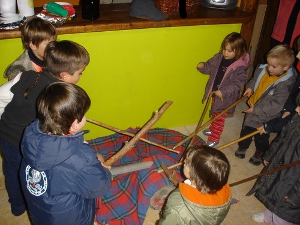 The tradition consist in "feeding" a trunk during some days and keeping "him" warm covered with a large blanket to make "him" becoming fat and fat. In the end, on December 24th in the evening, the children of the family use to sing Christmas songs into a different room and then they go to the living room (where the trunk has been placed and where it lays covered in his blanket), take a stick and On Thursday, Beshear stated when he thought he'd a 3/5 majority both in chambers that will support improving Kentucky's metabolic rate allowing world best casino gambling, he'd help with an offer to do this. hit the trunk while singing a song: "Tió, tió caga turró d'aquell tan bó; si no cagues turró et donaré un cop de bastó".
After the song, the children take out the blanket and discover all the presents that the trunk has given to them.
As almost everywhere, at first, what the trunk gave was food but actually In many of the houses, the trunk uses to give gifts such as electronic games, clothes, toys, …
You can find a video of the Caga Tió here

3 comentaris